1:18 1966 Ferrari 275 GTB/C Diecast Model Car Review
Published on: 04 April 2019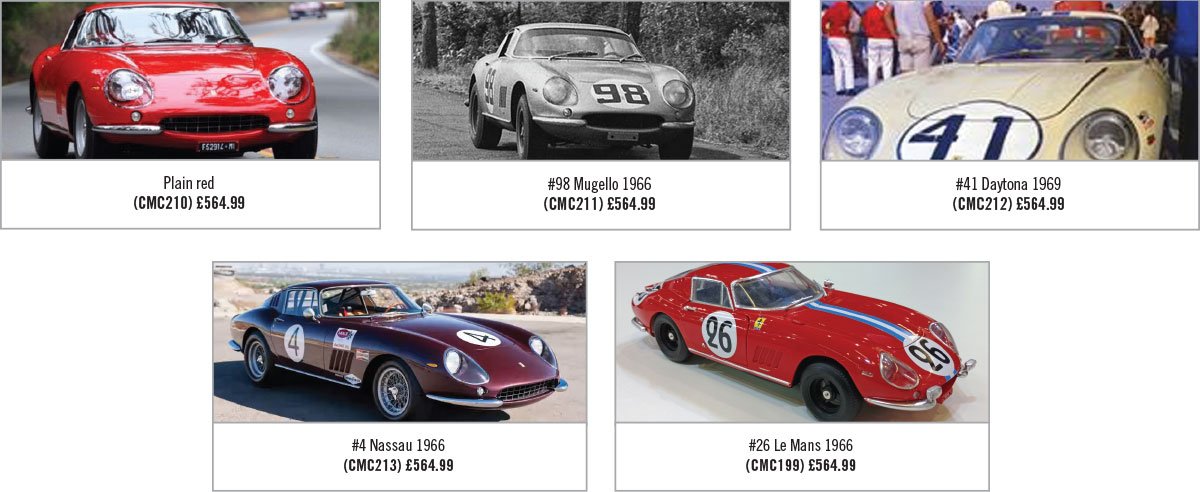 Originally published: April 2019
1:18 1966 Ferrari 275 GTB/C

CMC's brand new announcement for 2019 is the 1966 Ferrari 275 GTB/C. There was a very early prototype of the #26 Le Mans on display at Nuremberg, so we don't think it will be until towards the end of the year that we start to see the different variants coming through.
Ferrari built a series of 12 lightweight 275 GTB/C racing cars for the 1966 season. Even though they outwardly resembled the roadgoing 275 GTB, they had been completely revised by Mauro Forghieri and his engineering team. Every body panel was altered in some way, and substantial mechanical changes were made as well.
The cars were raced by several of Ferrari's customer racing teams, with varying levels of support from the factory. The GTB/C took several GT class victories, but did not score any major overall wins.
CMC has confirmed five versions of its 275 GTB/C replica. There will be a plain red example, and four racing machines. They are all available from us at £25 off of the RRP, so to you they will be £564.99 each instead of £589.99.
The silver #98 Ferrari was driven by Renzo Snibaldi and Maurizio Grana in the 1966 Mugello 500 km. The pairing finished seventh overall, winning the GT+1.6 class. The pale yellow #41 car was campaigned by Ricardo Rodriguez and Sam Posey in the 1969 Daytona 24 Hours. Again, it was a class winner.
The third racing example is the burgundy #4 car that was driven by Ricardo's brother Pedro in the 1966 Nassau TT encounter. The result: another class success. Finally, there is the #26 Ferrari from the 1966 Le Mans 24 Hours. The car made it 20 hours into the race before succumbing to a broken clutch. Giampiero Biscaldi and Michel de Bourbon-Parma were the drivers.
So, there you have it. Pre-order your favourite version now, and there will be no chance of you missing out on it when it is released.
Shop for the

1:18 1966 Ferrari 275 GTB/C
Want some more editorial stories? Please

click here

to return to the Diecast Legends home page.

Share this story