Matrix
Matrix has really carved a niche for itself in the world of collectible 1:43 replicas, with its offering focusing on 'one-off' cars and coachbuilt specials from days gone by. This was from an era when motorists would buy a car's chassis and drivetrain 'off the shelf', and then have it sent to their coachbuilder of choice to have custom-made bodywork designed. If names like Figoni & Falaschi, Bertone, Frua, Ghia, Pininfarina, Scaglietti and Zagato mean something to you, then the odds are that Matrix will have a replica that will appeal to you. But Matrix makes more modern cars too. Their emphasis, however, is always subjects that are less well known. They make models for the genuine aficionado. For collectors, one of the important factors with Matrix is that they produce in tiny quantities. Of some pieces, they produce just a few hundred examples. Rarely, if ever, would Matrix make a thousand pieces of a replica.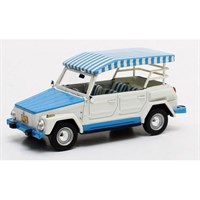 Matrix 1:43 resin model of the 1979 Volkswagen Thing Acapulco Edition in white and blue.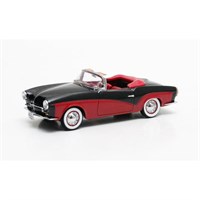 Matrix 1:43 resin model of the 1959 Rometsch Lawrence Cabriolet in red and black.
Availability
Product Type